This year, Experience Japan, which is one of the projects of MIS, is going to hold a 9-day program. In this program, we will take "tourism" as the theme. We will ask students in Southeast Asian countries to solve practical problems such as "what approach would produce the best results for each country in developing tourism?" through this project. It is supposed that you can take suggestions, take them home, and use this experience in your activities and future careers.
Contents of this information are following.
1. What is MIS?
2. What is Ex Japan?
3. This year's theme
4. About this year's program
5. Basic Information
6. Accommodations and Meals
7. Contact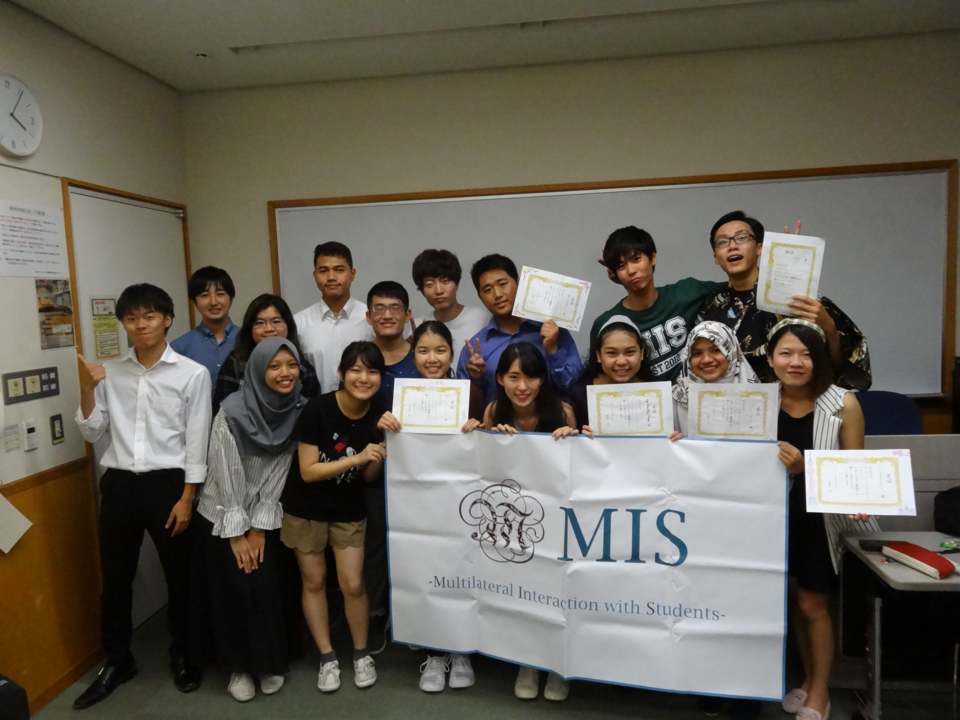 1. What is MIS?
We, organizers of this project, belong to MIS (Multilateral Interaction with Students), a NPO (Non-profit Organization). MIS mainly consists of students in the University of Tokyo.
Our aim is to make students grow up to be leaders in the next generation. To achieve this aim, our activity is to "find" social problems, "discuss" their solutions and then "carry out" them.
Now, we are cooperating with students in 7 different countries in South/Southeast Asia (Cambodia, Vietnam, Indonesia, Philippines, Malaysia, Myanmar and India). We are finding social problems and carrying out projects together.
2. What is Ex Japan?
Many students are eager to learn in Japan, but they cannot mainly because of economical bottleneck. By our financial support, we strongly hope that those who participate in this project actively learn the way to solve social problems by understanding different culture.
3. This year's theme
In our project, we will pick up a social problem common both to Southeast Asia and Japan and think seriously how to face and solve it under each circumstance by listening to the experts' lectures, sharing the current situation of our countries.
This year, we will take "tourism" as a theme. Nowadays, more and more foreigners come to Japan to enjoy its culture, food, and city. So, it is quite important for Japanese local governments to think how to increase their tourism income. They have to think about what visitors want to do in the city. That is why we invite Southeast Asian students who have the different perspectives from that of Japanese and let you make a plan or suggestion to improve the current situation. Any idea will be welcomed. For example, you can focus on how to increase the number of people who visit the city or average spend per person.
You will listen to the lectures of people who involve tourism, including professors, in order to expand your knowledge about tourism and make sure your idea good enough. You will be asked to submit some product from this project in Tokyo, and then after they go back home, you will make a proposal about how to improve their city's tourism. You will go back home with good lessons and make good use of this experience in their activities and the future career. In order to ensure that participants have enough abilities for our project, we select 9-10 students from candidates through scanning your application documents.
4. About this year's program
Our project is divided into 4 steps.
Firstly, you are assigned pre-assignments and study about education concerned with tourism in their own countries.
Secondly, after you come to japan, you will visit some companies or people that take part in activities in South/Southeast Asia and learn about the current situation in South/Southeast Asia.
Thirdly, you will visit companies which attack the problems of tourism in various ways in Tokyo.
Finally, through the experience in this program, you will think what they can do in their own societies and submit a report.
5. Basic Information
This program will be conducted in Tokyo from 25thAugust to 2ndSeptember.
Please check the file below for more details.
If you want to apply, firstly, you must fill in the application form (Word)
and send it to josi@misleaders.org
The deadline is July 2nd. Then, we'll send you back an email after we received your application. We'll announce the result around the middle of July.
If you can pass the selection, you must get your air thicket in the following process.
You must book a flight to Narita Airport or Haneda Airport that arrives on 25thAugust and leaves Japan on 2ndSeptember on your own. (It doesn't matter if you arrive sooner or stay longer in Japan, but the extra travel expenses have to be paid by yourself.) We will check your flight and the airfare, and then we will decide the subsidies you can get.
The subsidy for your air ticket is max. 40,000 JPY. For example, if your airfare is 60,000 JPY, you can get 40,000 JPY and you have to pay the surplus, 20,000JPY.
If your airfare is 35,000 JPY, you can receive 35,000 JPY. We will reimburse the subsidies to students when they come to Japan.
We will pick you up at the airport and go together to the central Tokyo by bus or train, but the fare is not included in the participation fee (Details below).
If there is any document required for visa applying, contact us.
After you reserve your ticket, you must prepare the participation fee.
The money students have to pay for is following.
1. The airfare exceeded the subsidies
2. The participation fee: 40,000 JPY. (Expenses for accommodation, meals and transportation during the program are all included)
3. Two-way ticket fare (The airport to the central Tokyo): 4,000~6,000 JPY
4. The expenses for souvenirs and the extra stay in Japan
6. Accommodation and Meals
・Accommodation
No.1 National Olympics Memorial Youth Center (Olympics Center)
The address is, 3-1. Yoyogi Kamizono-cho, Shibuya-ku, Tokyo 151-0052
The telephone number is, +81-3-3469-2525
※You will stay at 2 or 4-person room.
※You use a public bath room. If you cannot use for some reasons, please tell us.
・Meals
①at Cafeteria Fuji in Olympics Center
This restaurant serves smorgasbord in the morning.
You can choose Western or Japanese style mainly.
②at restaurants in Tokyo
You will go to a restaurant near the place where you visit in the day.
【Notice】
①For Muslims
・We can serve halal food.
・We prepare some places for prayer as much as possible, but their facilities may not be enough partly.
・We cannot prepare a private bath room. It has only a partition. You will take a bath with some people of the same sex.
②For people with disabilities
Please fill in the following 4 points (from point 1 to point 4) regarding assistance in the application form. (In particular, we wrote special notices after 4 points for those who use wheelchair, a visually handicapped person or a person having hearing difficulty. Please check it if you need.)
If you have any other questions, feel free to ask us by e-mail (josi@misleaders.org).
Point 1 How heavy your own disability is?
(ex. What can you do or can't do without caregiver in daily life?)
Point 2 Whether it is necessary to bring a caregiver from your country.
(About this point, please be careful that if you can bring your caregiver from your country, he or she is also counted as one of the participants. Therefore, his or her air fare is also subsidized, but participation fees must be paid.)
Point 3 If you do not need your caregiver from your country, can we (beginners of assistance) give you enough care?
Point 4 Do you have other things to consider?
(ex. I can't move with a wheelchair for a long time etc.)
Below are special notes for those who use wheelchair, a visually handicapped person or a person having hearing difficulty.
1, those who use a wheel chair
The width of the door of the room in Olympics Center is 70 cm. If you have a wheelchair with a width of more than 70 cm, you must get off the wheelchair by yourself. If you can't do it, I'm sorry but please refrain from applying. We will confirm accessibility of the place you will visit before this project. If accessibility can't be secured, we always prepare countermeasures. In that case, we announce it to you in advance.
2, a visually handicapped person
•As Braille service can't be provided, all information is offered as data.
I'm sorry but please apply only when you can acknowledge this situation.
•It is possible for Japanese students to accompany with you. However, let you know that they have little experience of assistance.
3, a person having hearing disability
•We currently do not have any hearing loops, minicom or textphones.
•Sign language services can't be provided. We will write or type what people say in the notebook, PC or smartphone. In that case, some cases can't be covered, such as ordinary conversations other than discussions.
I'm sorry but please apply only when you can acknowledge this situation.
7. Contact
Homepage URL: http://misleaders.org/
E-mail: info@misleaders.org
Facebook: http://misleaders.org/
E-mail: josi@misleaders.org